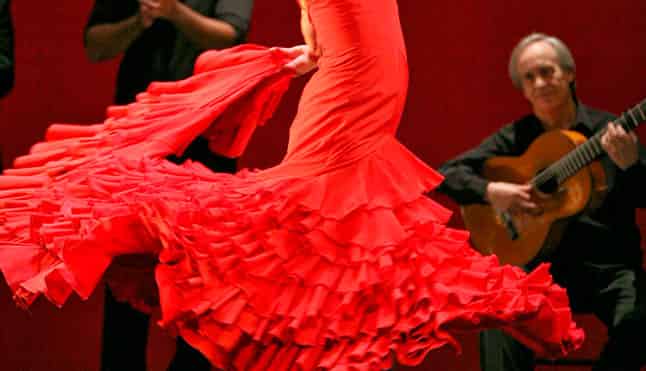 It is recorded that the first performances of flamenco in China date back to the 90s. This dance, originally from Spain, was the reason for the opening of the first academy in the city of Shanghai in 2005. Currently, the teaching of this dance has spread in such a way that they total around 18 institutions. These centres have 1,100 people of Chinese origin enrolled, with mostly Chinese instructor.
Pekín y Shanghái no son las únicas ciudades contagiadas con esta expresión folklórica ibérica.  El flamenco en china se ha expandido satisfactoriamente a lo largo de todo el país. En las academias formadas, se ofrecen cursos de baile constantemente; todo esto ha ayudado al incremento en el interés por practicar este baile en la población china.
Beijing and Shanghai are not the only cities infected with this Iberian folkloric expression. Flamenco in China has expanded satisfactorily throughout the country. In the academies formed, dance courses are offered constantly; all this has helped to increase the Chinese population's interest in practicing this dance.
Cultural exchange between China and Spain
Flamenco represents a vehicle that facilitates the development of the personality of those who practice it. The Asians see this art as a liberator, since they live propagating from generation to generation the suppression of feelings. In this sense, flamenco promotes passion and energy, which the audience appreciates.
It is also an attractive cultural contrast, so the Chinese people have ventured to join this experience. As a Taiwanese instructor Szu Ying Wang, trained in Seville, says, "Opposite poles attract, and flamenco fosters attitudes contrary to those promulgated by traditional Asian culture."
Flamenco is one of those cultural manifestations designed by the Asian country to enrich itself and expand its cultural range. Many Spanish artists have ventured into the disclosure of their cultural heritage in the Asian giant, and are the pioneers of this alliance. The experiences lived by these (mostly) Andalusians, have been very satisfactory and promising since the inception.
While it is true that the process of teaching flamenco in China has been productive, it is still an arduous task, and much remains to be done. Compared to Japan, China has undergone a slower adaptation process. One of the factors involved has been the cost and accessibility to the necessary clothes, and the payment for the courses.
Flamenco news in China
The Chinese cultural market has been expanding over the years. Among other reasons, this is because it has been increasing the initiative to participate in international cultural events. Above all, in those areas of great international acceptance, and with a positive commercial influence. Flamenco is one of those attractions and therefore the alliances between both countries have been strengthened in recent years.
Beijing Baihengshengtian Culture Communication established an agreement with the Ministry of Culture of Andalusia, through the Andalusian Agency for Cultural Institutions (AAIICC). The purpose of this agreement is to disseminate Andalusian and Chinese cultural materials in the programs 'BHST Chinese Culture Overseas Exchange' and 'BHST Chinese Film Overseas Panorama'.
In statements by Eduardo Tamarit (in charge of the AAIICC), it was stated that "although Europe and the East have different and diverse identities, they have common values of cooperation and shared effort focused on the objectives that unite them, and that precise social and cultural diversity is a source of development and opportunities".
Flamenco in China has come to stay and promises to continue expanding throughout the Asian continent.
Team EurochinaBridge.com