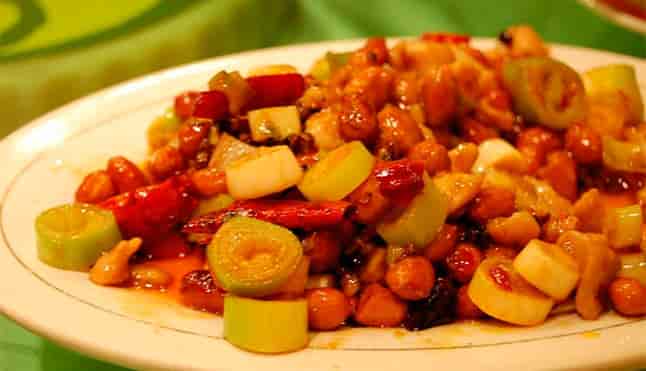 Spring rolls, three delicious rice, lemon chicken or sweet and sour pork are some of the most popular Chinese dishes, which we know thanks to the many oriental restaurants that have opened their doors in our country. But if we travel to China, we will verify that these dishes shine by their absence in their establishments. And in the West dishes are served spread by emigrants, adapted to the European palate and generally more caloric. Chinese cuisine is more prolific and treasures millennial elaborations, in fact, it is one of the oldest in the world. Do you know which are the most popular dishes that are eaten in China?
1. Kung Pao Chicken
Also called gong bao, he was born in Sichuan province. The main ingredient is marinated chicken, which is sautéed in a wok with a pinch of oil, chilli peppers, chilies, pepper, vegetables, cashews or peanuts. The result is a dish with an intense spicy taste, suitable for the most intrepid palates, which has nothing in common with western lemon chicken, which usually has more sugar than lemon.
2. Hot Pot
Translated means hot pot and can be considered the equivalent of the Swiss fondue. It consists of cooking in a slow cooker, which is placed in the center of the table, different ingredients that vary depending on the region. It supports green leafy vegetables, wotons, pieces of meat, eggs, mushrooms, meatballs and even seafood. It constitutes a festival of flavors and aromas, very convenient to face the cold of winter.
3. Zonzgi
Rice is one of the basic products of Chinese cuisine. It is prepared in many ways and in three delicacies is not the most usual. One of the most recurrent and tasty is the zonzgi, which is a bamboo package with triangular shape, which is filled with glutinous rice or boiled sweet, beans or meat, although it allows many more ingredients. The Chinese usually taste it at the Dragon Boat Festival, a celebration that pays homage to Qu Yuan, a Chinese poet who is much admired for the patriotism he displayed during the Warring States period.
4. Lacquered duck or the pekingese
It is one of the most traditional Chinese recipes, which, as the name suggests, is a native of Beijing. The way to prepare it is a real art: the duck is eviscerated, all cavities are covered and inflated like a balloon until the meat is separated from the skin. Then it is fried, bathed with a molasses and roasted on a skewer, so that the fat is unraveled, painted the duck and, therefore, giving it a crunchy texture. At the time of serving, the ritual continues, as it is usually done in two separate dishes: one with crispy skin and one with meat cut into slices.
5. Wanton Mee
They are very typical of Hong Kong, although they also enjoy their kindness in other countries such as Singapore or Malaysia. It is a noodle soup, which includes soy or oyster sauce, green leafy vegetables, slices of roasted pork -char siew- and prawns. They present it in a bowl and decorated with chives.
The Chinese feel true passion for the elaborations with noodles, of which there are as many variants as tastes and ingredients they want to include. The chow mein is possibly one of the most successful. In this case, the noodles are sautéed with vegetables, chicken and veal, although it depends on the area in which it is prepared. In the western restaurants they are present, where it is usual to accompany them with a thick sauce.
6. Shark fin soup
This delicacy is possibly the most traditional of Chinese gastronomy, as well as an icon of Asian culture. The Chinese usually taste it on special occasions such as weddings, banquets or special parties. Obviously, the authentic one is elaborated, as its name already anticipates, with shark fins without skin and subjected to a drying process. It is eaten accompanied by pork, chicken broth and mushrooms, which increase their taste.
Digital Newspaper Público