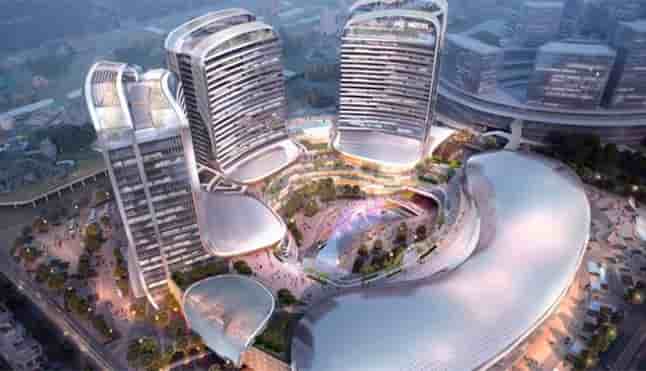 Fans of «Hunger Games» or «Twilight» have a date this July on the island of Hengqin located in Zhuhai, China where it is planned to open the first vertical theme park in the world. Lionsgate Entertainment World will offer, along 22,000 square meters of interior spaces, several adventures that include a virtual reality motorcycle trip based on the movie «Twilight», a break from the maximum security prison in «Escape Plan» or a replica of the Capitol lobby of «Hunger Games».
More than 25 attractions and virtual reality experiences in a futuristic building with a height of ten floors. The theme park, which will also include attractions based on films like «Divergent», «Now you see me… » and «Gods of Egypt», will feature restaurants with a «Hunger Games» thematic menu with different dishes inspired by the different districts of the movie.
Flight of Mockingjay (Hunger Games)
In the attraction of Hunger Games -Flight of Mockingjay- the visitor enters an exciting attraction of 3D motion simulator.)
Battle for eternity «Gods of Egypt»
The virtual reality roller coaster «Battle for eternity» is the first designed especially for this purpose and plunges into an epic battle between good and evil in ancient Egypt.
Mignight walk (Twilight)
At the «Midnight Walk» attraction, the visitor will have the opportunity to feel the protagonist of the film «Twilight» and to live an adventure of virtual reality through the forests illuminated by the moon.
Real Madrid will be in Novotown
The theme park will be part of a great destination called Novotown, a multi-phase project that includes large hotels and offices as well as restaurants and different types of entertainment. As the one that will be destined to Real Madrid. The Spanish club will be the protagonist of one of the thematic areas of the Novotown leisure center. With approximately 12,000 square meters of surface, it will interweave sports, entertainment and advanced technology elements through a range of virtual reality and augmented reality experiences. It will also have a museum of the history of Real Madrid, games and experiences, as well as a merchandising shop and catering area.
Digital Newspaper ABC