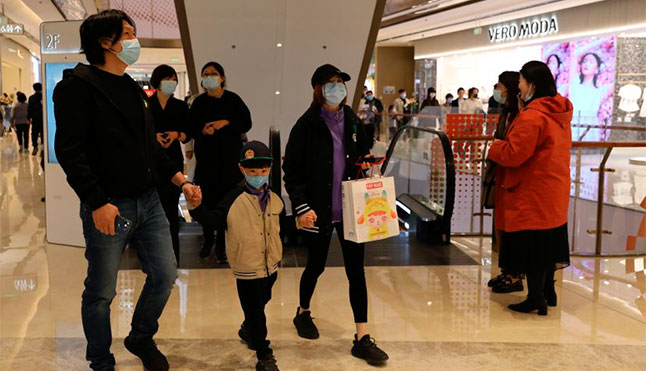 Liu started 2021 on the right foot. Just before the lunar New Year holidays, the 30-year-old administrative worker participated in a raffle organized by a mobile application of the government of her city, Suzhou, in southeastern China. He earned 200 yuan (about 26 euros). The novelty? That money does not exist on paper, but only as electronic code. They were digital yuan, the currency with which China aspires to become the first country with an official cryptocurrency in circulation, in a step that could revolutionize the use of money and monetary policies.
"I had to download a special digital yuan application and record my details," Liu says by phone. In doing so, the 200 yuan was available in an electronic wallet, where the currency is represented by a digital image of Mao Zedong similar to that of paper banknotes. She spent the money on small gifts in online stores. "It is used like other mobile payment applications" [very popular in China, such as Alipay or WeChat], he explains. "It's very comfortable. You can buy on electronic platforms and scan the store's QR code. You can also do it in some physical stores, although they are still few, because they need a special scanner to read your QR code ".
In the goal of developing an official digital currency, Beijing is advancing by leaps and bounds, and plans to accelerate them even more. Its new five-year plan, presented last month and which will direct the national economy until 2025, foresees "promoting research and development of virtual currency", in a sign of the importance that the Government attaches to this project.
A year ago, the People's Bank of China (BPC) began testing this coin in pilot projects in four Chinese cities: Suzhou, Chengdu, Shenzhen and Xiong'an, a newly created city on the outskirts of Beijing. Six other regions were added last week, including Shanghai and Xi'an. More than 100 million yuan (about 12 million euros) have already been distributed in raffles like Liu's. In November, four million operations had been recorded, worth 2 billion yuan. If everything continues according to plan, the first international test of the virtual currency, which will have the same value as the paper yuan, could arrive at the next Winter Olympics in Beijing in February 2022.
The digital yuan can be used in the pilot areas to pay bills, transport, official fees or to buy products in various physical stores. At the moment, the operations only take place between consumers who have received the virtual wallets and merchants invited to participate in the test. The application links the electronic wallet with the user's bank account. Transactions occur in real time, through QR codes generated by the application, although the technology allows purchases to be made without the need for an online connection. This is a huge advantage in the vast rural areas of China, where good internet access is not always guaranteed.
The search for a digital sovereign currency is not unique to China. 86% of central banks, according to the Bank for International Settlements (BIS), have begun to explore its potential benefits. 60% carry out experiments, and 14% have started pilot projects. An interest that comes from afar, since the success of bitcoin began and since the failed Libra project with which Facebook was considering creating its own currency. The coronavirus pandemic has increased the motivation to explore payment options that save costs and avoid the exchange of paper bills or coins. "If they are well designed, they can offer a secure, neutral and definitive payment mechanism for the digital economy," said Agustín Carstens, president of the BIS last month.
But the prospect of a cryptocurrency gaining international acceptance has sparked nervousness in the United States, at the possibility that that currency could challenge the dollar as a safe haven currency and thus undermine one of the pillars of Washington's global influence. The greenback, the reserve currency par excellence, accumulates more than 88% of international payments, while the yuan, or renminbi, represents less than 4%. Its dominance gives Washington the power to expel, through the imposition of sanctions, an entity or individual from the global financial system.
Towards a new reserve currency?
Beijing has already carried out its first cross-border tests, allowing it to be used by certain Hong Kong residents for payments in Shenzhen. It is also actively involved in the process of creating the rules governing these new currencies in the future.
Although analysts, and officials themselves, argue that China would still have to undertake many changes to make its currency attractive enough for international use. Among other obstacles, he faces the limits that his government imposes on the flow of capital, which limits the sending of yuan abroad, and that the renminbi is not a fully convertible currency. In addition, despite its great global weight as the second largest economy in the world, China must tackle credibility problems over its economic and legal systems.
"At the moment, there is no indication that the BPC will relax capital controls for the digital yuan, although that could change," Martin Chorzempa of the Peterson Institute for International Economics wrote in a recent report. At the Boao Economic Forum, the Chinese response to Davos, the chief economist of the e-commerce platform JD.com, Shen Jianguang agreed that "if you want to have a global reserve currency, you need to let foreigners have it and use it. ". Beijing would also have to make its exchange rate more flexible, develop its financial markets and allow its citizens to buy more foreign assets, the executive said in statements to the Bloomberg agency.
It is not clear, either, that at the moment other countries will prefer to carry out their transactions in digital yuan instead of dollars, or even current yuan. The PBOC's own deputy governor, Li Bo, has acknowledged that the motivation for the electronic yuan, at least for now, is internal use. But it does admit that cross-border use can come in the long term. "Our goal is not to replace the dollar or other international currencies ... our goal is to allow the market to choose, make international trade and investment easier," Li said.
"The dollar's status as a key global currency is not going to change so easily," Kazushige Kamiyama, head of the national digital currency project at Japan's central bank, said last week. "In fact, the dollar advantage may be further strengthened if the dollar is digitized."
An exponential growth of the electronic payments
Beijing's interest in the project has an important national dimension. China, which began exploring the possibility of a cryptocurrency in 2014, has seen exponential growth in the electronic payments sector in the last decade. The success of platforms such as WeChat or Alipay has created not only an entire ecosystem of mini-applications that is practically essential in the daily life of a Chinese citizen. Also an alternative financial system of such power that it has forced the regulatory bodies to intervene to sanction Alibaba and warn its financial arm, Ant Group. In 2019 alone, financial institutions processed 331,020 million payments of this type, 50.25% more than in the previous year, with a total volume of 3.78 trillion yuan (477,350 million euros), according to the Ministry of Commerce.
An official cryptocurrency, according to the director of the Peking University digital finance research center, Huang Yiping, could at least partially counter the influence of those private platforms. "BPC's digital currency circulates as electronic payment… which may overlap with WeChat Pay and Alipay. Will it replace them at least in part in the future? I think so, "Zhongguo Fangtan told the digital media.
Unlike bitcoin, a currency designed to ensure anonymity and decentralization, the digital yuan will allow tight control of its issuing bank. Its officials will have much more power to scrutinize who carries out what transactions and how citizens use the money.
It is knowledge that will allow you to refine your monetary policy and adjust it to the needs of the moment. For example, digital money can be issued with an expiration date, to encourage it to be used within a specified period if the economic authorities consider that an increase in spending is necessary. It can also be programmed so that it gradually loses value if it is not used. That the central bank can know each movement that is made with its virtual currency would also allow it to detect and stop cases of tax fraud or money laundering. But it could also be used against government dissidents.
The head of the BPC cryptocurrency project, Mu Changchun, has admitted that the design of the Chinese virtual currency contemplates a "controllable anonymity", in which the identity of the participants will only be hidden "to a reasonable level". Small transactions can be completed simply with a virtual wallet linked to a phone number. Others of greater quantity will require the delivery of more personal data. The BPC will always be able to know the identity of a user if it deems it convenient. "A completely anonymous sovereign digital currency is not feasible," says Mu.
It remains to be seen, too, what acceptance the virtual currency will have among Chinese citizens themselves. Having spent her gift yuan, Liu does not plan to transfer any more to her digital wallet. "I'm going to wait for more businesses to use it. It will be more practical then ", he assures.
Published in Digital Newspaper El País
Written by Macarena Vidal Liy
April 22, 2021