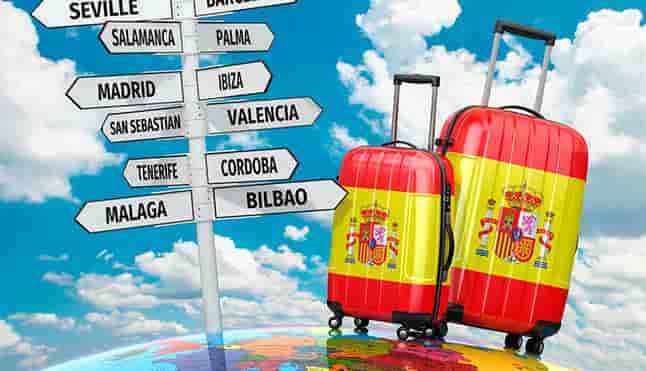 Chinese tourism in Spain is growing exponentially, as it does in the rest of the European Union. The Spanish tourist sector begins to put its focus on this type of potential tourist. One of the determining factors is the establishment of new direct air connections since 2017 between the airports of Madrid and Barcelona with the main Chinese cities, such as Beijing, Shanghai, Shenzhen, Guanzhou, Hong Kong, among others.
The data is more than encouraging in terms of the number of Chinese tourists in Spain for the next few years.
1.500% more Chinese tourists
In 14 years, the amount of Chinese tourists in Spain increased in 1,500%. They are attracted by the culture and landscapes, but particularly by the possibility of cheaper shopping than in their own country.
In Spain, Chinese tourists buy fashion items, souvenirs and gifts for family and friends. This is a symbol of status in a country of 1,300 million citizens, with very few with the economic capacity to travel abroad.
Look towards China
In 2004, the Chinese government authorised their citizens to travel to Spain. The facilitation of the visa helped Chinese tourism in Spain.
There are still things to do. The promotion of the Spanish tourist attractions in the Asian country is a task to improve. Fortunately, new routes were opened between Beijing, Shanghai, Hong Kong and Madrid.
Understanding that Chinese tourism is about shopping, and not about sun and the beach, is part of the task. Luxury jewellers, costume jewellery stores, and technology are their most popular destinations. Therefore, improving access to other cities is also a pending issue.
Spanish travel agencies are working hard to increase Chinese tourism in Spain. Respecting their beliefs or their meal times is part of the logistics of a great tour. Initiatives such as websites in Mandarin are part of the strategy.
In its favor, Spain has the advantage of being one of the members of the European Union that refunds the most VAT.
Potential expenditure
One of the advantages of Chinese tourists is their purchasing power. The daily average is 2,593 euros, compared to the 911 euros spent by a British tourist.
In 2015, 2.59 million Chinese tourists spent in the United States 22,091 million euros. The 2 million American tourists who visited Spain in 2016 spent 3,500 million euros. The benefits of Chinese tourism are a reality which is obvious.
Betting on millennials
Although the majority of Chinese tourists are middle-aged, there has been an increase in the arrival of young tourists. Millennials speak English and prefer to do tours on their own. They go to museums, but also to football and are potential buyers of clothes and electronic devices. Spain is a world tourist destination.
In 2016, Spain was the third largest tourist destination. 75.2 million international travellers arrived. Of the total, 580,000 were of Chinese nationality, 46% more than in 2015; only about 213,000 Chinese tourists arrived in Madrid. In the Chinese New Year, Spain was ahead of France and the United Kingdom in the preferences of Asians.
By 2021 it is estimated that 150 million Chinese will have a passport. Spain cannot miss this opportunity, because Chinese millennials are a focus of attraction.
To consider
The figure of Chinese tourists points to 700 million in the next 5 years. This is part of the economic expansion plan announced by President Xi Jinpin. Overseas investment is contemplated at 750 billion dollars and imports at over 8 billion dollars. Between 2010 and 2016, Chinese investment in Spain was 4,650 million dollars.
Boosting Chinese tourism in Spain is a gamble. This year it is expected to reach 84 million international visitors, a position in the international ranking above France. The decision aims to attract more young people of high purchasing power, to promote quality tourism.
Team EurochinaBridge.com