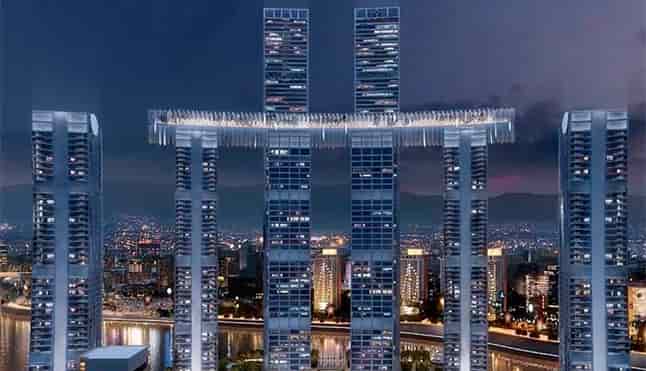 In architecture, humanity has always found the best way to reflect the wealth of the society of the moment. From Egypt, where the emperors built themselves imposing pyramids, to the present, where the United Arab Emirates, the United States, China and, less often, Europe fight to amaze the world with modern and beautiful buildings. The struggle to be the tallest, the most expensive, the most modern or the one that best integrates technologies can be seen in each new architectural bet announced by the most avant-garde cities of the moment.
This time the turn is for China. The Asian giant has wanted to go further and build a horizontal skyscraper 260 meters high. Its name is The Crystal and it is formed by a horizontal structure of 305 meters long that rests on four skyscrapers. That is, there are four vertical towers and one horizontal tower that rests on them. In total, the disbursement has been 4,800 million dollars.
It is the first structure of this type that is built in the world and, in reality, its function is to bridge between four buildings. The city on which it is located is Chongqing, between the Yangtze and Jialing rivers. The architect in charge has been Moshe Safdie, Israeli-Canadian, who also built the famous Singapore SkyPark building.
Although they are similar buildings, with the exception that the SkyPark cost 6,200 million, the difference is that the Chinese is surrounded by a glass dome, while that of Singapore is discovered. This horizontal skyscraper or aerial bridge is 260 meters high, 42.3 meters lower than the tallest air bridge in the world, which remains the Kingdom Center of Saudi Arabia.
Being surrounded by glass, it is considered a horizontal skyscraper rather than an airlift. Its size is also considerable: 3.7 million square meters. It will not only serve as a bridge between the four buildings, but its structure is independent and there will be hotels, offices, apartments, entertainment centers, gardens and many more facilities. The Crystal is a reality, since this last part was placed this week and the next step is to finish the details of the interior, which could be finished in the second half of this year.
libremercado.com