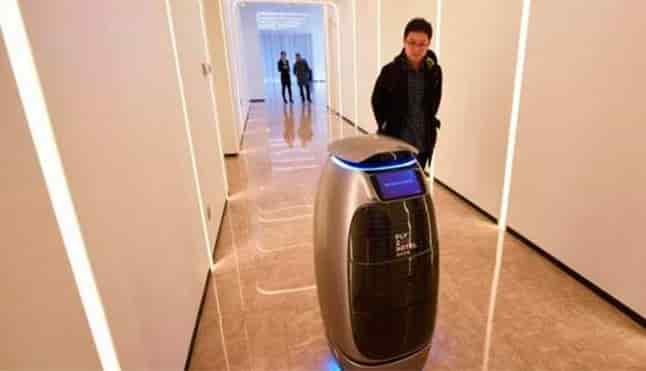 Robots in room service, doors that open with facial recognition and lights that adjust to the requests of the guests through the voice. This is FlyZoo, the hotel of the future, which in China has already begun to operate, promoted by the technological giant Alibaba.
The hotel, which has 290 rooms and is located in the city of Hangzhou, very close to where the Alibaba Group has its main headquarters. Its price ranges between 600 and 2,300 yuan per room (between 80 and 300 euros, approximately).
From the reception it is clear that this is not a normal hotel. A huge screen wall welcomes guests who can register through an application on their own mobile phones or through counters with smart screens.
All without receptionists, or wait. The guest's face is registered immediately upon entering, thanks to the camera (mobile or counter) and will be your key to functions such as opening the door of the room or use the elevator.
For the face… to the gym
FlyZoo uses the photos taken at check-in to verify that users staying at the hotel can also use common areas such as the gym or a futuristic lounge equipped with an intelligent and interactive screen and floor to perform custom exercises.
Already in the room, an intelligent assistant, Tmall Genie (similar to Alexa, Amazon's assistant), welcomes guests and offers comfort details such as adjusting temperature, lights, curtains or television. Also, it helps answer questions or play music. If the guest needs to take or eat something or if he lacks a hygiene product, he only has to ask the assistant.
Next, the stars of the corridors enter: the robots that run through the hotel, go up and down in the elevator until they reach the room of the guest who needs a toothbrush.
The hotel is operated by about one hundred workers. "Although it is a hotel of the future, it does not mean that it is completely without people to operate it because that is obviously impossible," says Alibaba's spokeswoman, who refuses to give figures on saving personnel.
20minutos.es