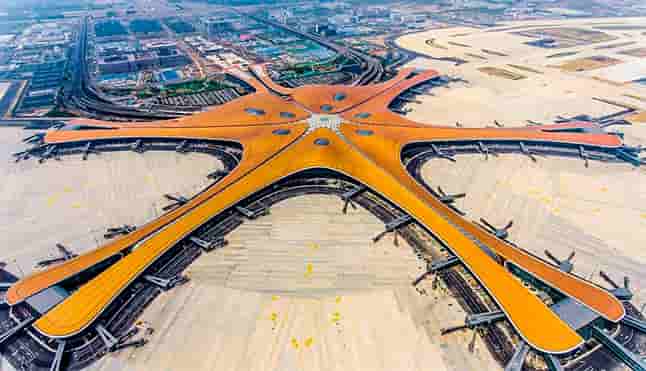 Just over a decade ago, on the occasion of the 2008 Olympic Games, Beijing opened what was then the largest airport in the world, actually the third terminal of the one that already existed. Work of Sir Norman Foster, said T3 has become so small only eleven years later that the Chinese capital will open a new airport these days that aspires to be the largest in the world.
50 kilometers south of the city center, Daxing International Airport (PKX) will have seven runways (one of them military) and will have a 700,000 square meter terminal. To get an idea of ​​its dimensions, it is as if 97 football fields were joined, but in the shape of a six-pointed starfish.
With a budget of 80,000 million yuan (10,200 million euros), it has been designed by Anglo-Iraqi architect Zaha Hadid, who died two years after the start of the works in 2014, in which more than 40,000 workers participated. 
In this country where everything is big, the Daxing airport will serve 72 million passengers a year until 2025. From that date, when all of its runways are operational and over 100 million people pass through it annually, it has been proposed to unseat the Hartsfield-Jackson Atlanta airport, the busiest in the world. In view of China's extraordinary growth over the past four decades, it will not be difficult because it is expected that this air market will exceed that of the United States between 2022 and 2025.
During the next two decades, and according to the official press, in China more than 200 airports will be built so that in 2035 there are, in total, 450. A juicy cake for airlines and aircraft manufacturers such as Airbus and Boeing, which try to alleviate in emerging markets the stagnation of your business in developed countries.
For Beijing, the one in Daxing will actually be its third airport. To the capital's international airport (PEK), which has three terminals, is added the small domestic airfield of Nanyuan, the oldest in China because it was opened in 1910. After more than a century of life, it will close its doors when the airport Daxing starts operating on October 1. From it, important airlines such as China Southern, China Eastern, Delta, Korean Air and Air France-KLM will fly. With its opening, Chinese passengers expect it to ease the traffic of the current airport, the second busiest in the world, and end its delays. But, given that the Chinese airspace is subject to heavy restrictions by the Army, it seems difficult to solve the chaos that flying in this country sometimes entails. Of course, it will help China to shine again with the largest airport in the world.
Digital Newspaper ABC