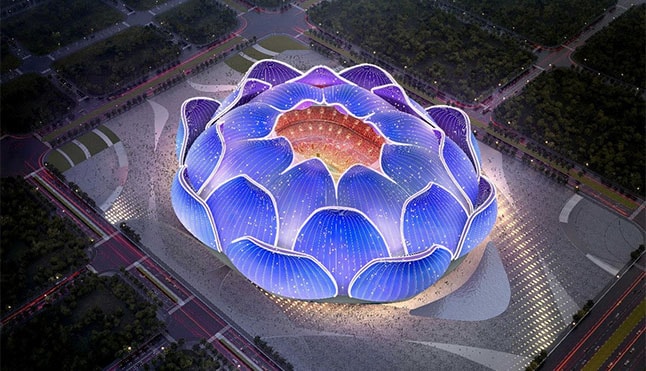 China and mega-constructions are often synonymous. For example, the Asian country has the longest bridge in the world ever built and now they are looking to repeat the feat with the highest capacity soccer stadium in the world. As if that were not enough, it will also have the shape of a gigantic lotus flower.
$ 1.7 billion is what Guangzhou Evergrande, the Chinese Super League soccer team, is going to spend on building the new stadium. It will have a total of 100,000 seats inside and is expected to open in 2022 now that construction has begun. The idea is for it to be operational for the Asian Cup in 2023.
The design of the stadium is carried out by the American architect Hassan Syed, who was chosen among different proposals from around the world. In addition to the 100,000 seats, the stadium will have 168 VIP seats and 16 even more exclusive.
'Flower City' is the name given to the stadium for its lotus flower shape. It will certainly be quite a sight to see it lit up at night. The construction is an investment of Evergrande Real Estate Group, currently the largest real estate in China. Xia Haijun, president of Evergrande Real Estate Group, already compares the stadium to the Sydney Opera House and the Burj Khalifa in Dubai. And they plan to build two more stadiums in the country with capacity for about 80,000 people.
Will it be the largest in the world? In capacity and technically destined for football, yes. In the list of stadiums ordered by capacity there are currently several with more than 100,000 people, however the first one that appears in the list for football is the Camp Nou in Barcelona, ​​with a current capacity of 99,354 people.
xataka.com