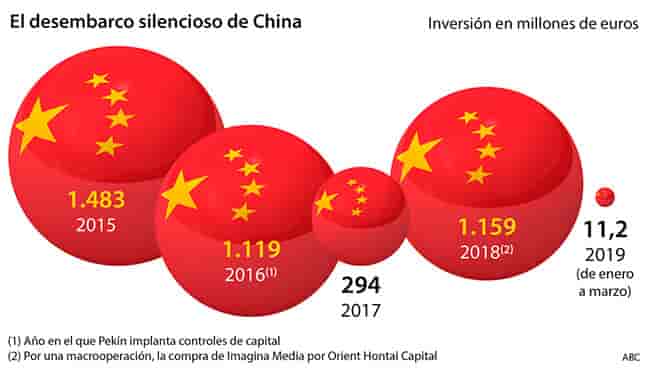 China has a significant tradition of small traders and investors who live in Spain. However, in 2012 the Asian giant became the third largest foreign investor in the world.
Now, the Chinese look towards Spanish territory and the matter has massive dimensions.
China now has the best future-facing economy. The adoption of economic liberalism and the new period of global expansion, is something that has not gone unnoticed by states and companies from all over the world. Basically, everyone wants to have something to do with this country.
In Spain, the relations of economic cooperation and trade with this "sleeping giant" are being managed very well. And the near future seems promising.
China is investing a lot in Spain
Between 2000 and 2013, the outflows of Chinese investments abroad have increased exponentially and this does not seem to stop. Until recently, slightly larger economies such as Germany, Russia and France had been the main European recipients of this capital.
This distribution will not change in the short term, but it is clear that investors and the Chinese State are looking at the Spanish markets. Since 2014 and as a result of the global economic turmoil initiated in 2008, this flow has slowed. Beyond this, there are specific figures that Spanish businesspeople should be considering.
It all started in 2011, when the Chinese invested in Spain in considerable numbers. The amazing thing is that the Chinese capital did not surpass even 30 million dollars the previous year. In that annual period, our country was the sixth most preferred European destination by Chinese companies.
But talking about these numbers today sounds ridiculous. In 2016, the investment of this country in Spanish territory reached 1.8 billion dollars and it is expected that in the next 3 years it will reach 3 billion. Until 2008, there was practically nothing and now the figures are tripled every year.
What is the potential that the Chinese see in Spain
Most economists see this trend as a structural issue and therefore, as sustainable over time. But…what are the commercial sectors that interest the Asian giant with respect to Spain? According to statistics, the greatest number of investments are made in entertainment and sports, tourism, agri-food, infrastructure and finance. Many of these choices are logical and take into account the strongest sectors in Spain.
This forces Spanish companies to focus on these sectors and concentrate on reaching agreements with Chinese companies. Acquisitions and mergers are the order of the day, as well as the opening of branches.
Wanda, Huawei, ZTE, Lenovo, are just some of the best-known names. Some 75 Chinese companies already have important offices in our country. Now all that remains is to study how to increase and take advantage of these commercial opportunities. In this sense, the Spanish state will play a crucial role in the future, and important programs are already being developed for the near future.
Team EurochinaBridge.com