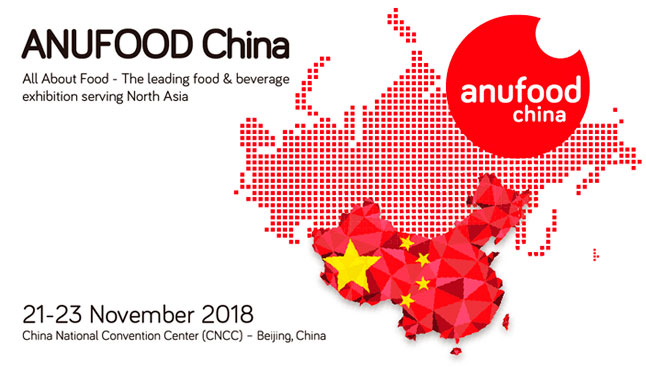 The Anufood fair is the largest international exhibition of the wine and food industry in the capital of China. It is a fair co-organised with the CFNA, China Chamber of Commerce of Foodstuffs and Native Produce, a Chinese entity that brings together more than 6,000 members, among which are some of the largest agri-food companies in China.
Since 2016 the fair is celebrated in this format. In the two previous editions, the fair was called World of Food and it had the participation of Spanish companies within the same pavilion but without the direct participation of ICEX.
The Anufood China 2018 fair took place at the China International Exhibition Center in Beijing from November 21 to 23, 2018.
EurochinaBridge was present as an exhibitor, with the help of ICEX. The same pavilion was attended by other Spanish companies dedicated to the meat, oleic, wine and negotiation sectors. EurochinaBridge opted to attend and be present as exhibitor of ANUFOOD in Beijing to reach the northern sector of the population, given the importance of the Chinese capital as an international hub for imported food.
Information:
More than 26,000 professionals attended.
More tan 600 exhibitors.
35,000 square metres of fair.
13 halls.
36 countries represented.
Important fair in northern China.
Great variety of food products.
A wide variety of professionals.
Team EurochinaBridge.com