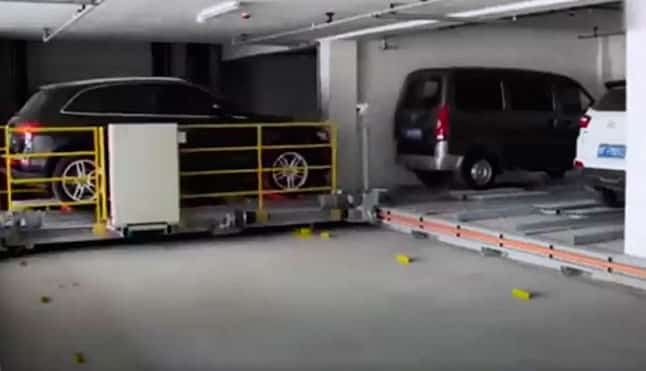 The Chinese city of Qingdao has just opened an intelligent parking garage, with which those drivers who hate to perform parking maneuvers in closed spaces will dream. It is a fully automated facility, in which the motorist must only enter the vehicle in a kind of elevator. Once placed, you have to get off the car, exit the elevator and confirm the parking order.
From this moment, the system handles everything else. The vehicle moves on mobile platforms through the interior structure of the building until it reaches the assigned hole, where it will remain parked until its owner returns to pick it up. 
To recover the car, the user must only scan the QR code printed on the receipt obtained at the time he has left his car. Once the machine performs the reading of the ticket, the system is started again to make the reverse route. The customer must only enter the elevator to get into the passenger compartment and start the journey to his new destination. 
This type of parking, also introduced in other cities of the world, are practical because they avoid having to go around the different floors of the garage in search of a free space. They also put an end to the damage caused to the car body during parking maneuvers, for example, by rubbing a column. 
Anyway, it is not necessary to go to automated parking to save the maneuver. Currently, many vehicles equipped, either as standard or option, parking attendants that facilitate the operation. While some need the presence of the driver at the wheel, the most sophisticated perform the maneuver in a completely autonomous way, with no one inside. 
Such is the case of the BMW 5 Series, which allows remote parking. Using the intelligent key BMW Display Key, and thanks to the sensors of the vehicle, the driver can enter or leave the car in a garage without sitting inside the car. This possibility of remote parking is ideal when the space is very small and can hinder the opening of the driver's door.
Digital Newspaper El País