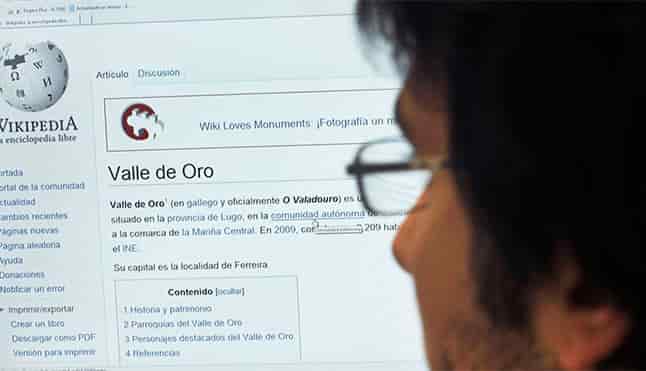 The Chinese regime has blocked access to the virtual encyclopedia Wikipedia in all languages, according to the foundation that manages the portal on Wednesday. "In April, the Wikipedia Foundation found that Wikipedia was no longer accessible from China," said the spokeswoman for the organization, Samantha Lien. Access to the Chinese version of the portal was already blocked since 2015 by the Ministry of Public Security, responsible for the so-called Great Firewall, the country's digital censorship system.
"After thoroughly analyzing our internal traffic reports, we can confirm that all versions of Wikipedia, in all languages, are blocked," said Lien. Wikipedia has not received any explanation of the cuts, the organization has reported. Until last April, the versions in other languages ​​were available from the interior of China, although some had suffered occasional interruptions.
Also, for some time, access to social networks Facebook, Twitter or Instagram has been cut off. China has its own alternatives to these services, such as the WeChat, Weibo or QQ portal. Last December, Google search engine, which does not work in China since 2010 for its refusal to abide by the censorship norms, canceled a project to adapt its search engine to the demands of the Chinese regime after a controversy inside the company.
It is common for Chinese authorities to increase censorship when major political events or controversial anniversaries approach. This year marks 30 of the protests and massacres in Tiananmen Square. At least 10,000 people, especially students who demanded the democratic opening of the communist regime, were assassinated in June 1989 in the geographical and historical heart of Beijing. China has cut off any attempt to remember those facts.
Also this 2019 marks the 100th anniversary of the movement in which Chinese students were inspired in 1989: another claim that also occupied Tiananmen Square, in 1919. On that occasion, thousands of students, led by those of Peking University, They concentrated to cry out against the abuse of foreign power and the weakness of the Government. As in 1989, the protests ended in repression and a bloodbath.
Digital Newspaper El País