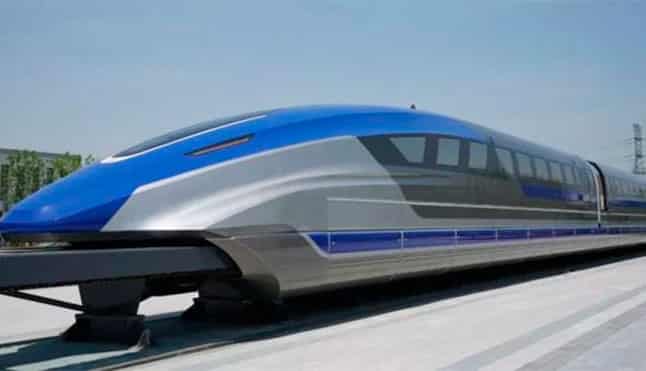 A new bullet train is getting closer and closer to becoming an authentic reality. The railway company CRRC, based in Beijing (China), presented a few days ago a new prototype of magnetic levitation train ("maglev") capable of reaching a maximum speed of 600 km / h.
CRRC, the world's largest provider of rail transport equipment, said during the presentation that the new train will be ready for commercial production in 2021. Until then, there is still a lot of evidence to be done.
The "maglev" trains (derived from "magnetic levitation") allow higher speeds. When there is no friction with the ground, trains are propelled based on magnetic levitation using a large number of magnets that cause the cars to rise over the tracks and propel themselves.
The company's first prototype, which it presented on May 23, came out of the production line in Qingdao, Shandong province, and stands out for its elegant appearance. As stated in the "CNN", those responsible for the project are very optimistic because this new train will completely transform the travel landscape of China because it comes to occupy a gap that currently exists between the high-speed train and air transport.
"Take as an example travel from Beijing to Shanghai. Assuming that the preparation time for the trip is approximately 4.5 hours by plane and 5.5 hours by high-speed train, with our new 'maglev' train it would take around 3.5 hours, "explained Ding Sansan, team leader research and development of the train.
 It should be remembered that while the cruising speed of an airplane is 800-900 km / h, at present the trains that cover the Beijing-Shanghai line reach a maximum speed of 350 km / h.
This new prototype is the result of almost three years of research, according to Ding. The engineering team has developed a lightweight but high-strength train body that provides the technical basis for the development of five sets of maglev engineering prototypes. Therefore, CRRC is building an experimental center and a test production center for this type of transport that will be operational in the second half of 2019.
Japan, a world reference
The new prototype of China will not be, however, the first train that exceeds 600 km / h when it reaches the test track. It was in 2015 when the company Japan Railway established a new world record with its prototype on a track in Yamanashi, where it reached 603 km / h.
Japan is now developing a new line of magnetic levitation trains, known as Chuo Shinkansen, capable of reaching 500 mk / h per hour. The first phase of the project, which connects Tokyo and Nagoya, is scheduled to be completed in 2027 and is expected to reduce travel time between those cities by half: from nearly two hours to about 40 minutes.
Digital Newspaper ABC