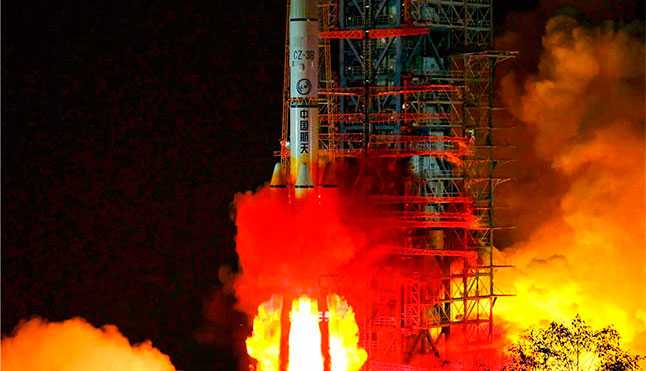 The construction of the Chinese satellite navigation system Beidou will be completed in May with the deployment of the latest Beidou third-generation satellite, the China Satellite Navigation Office reported.
In a statement sent to China Daily on Monday, the China Satellite Navigation Office said it will carry out two launches of Long March 3B carrier rockets, in March and May, respectively. Beidou geostationary orbit satellites will be sent from the Xichang Satellite Launch Center, located in Sichuan Province.
The first rocket, which will be launched in March, was transported on February 14 to the Xichang Satellite Launch Center, and is currently undergoing final inspections. The statement added that around 200 engineers and technicians work on the mission.
The most recent deployment of Beidou's space assets took place in December, when the Beidou 56 and 57 satellites were lifted into space from the same launch center.
Now they are operating in medium orbits, about 20,000 kilometers above Earth, along with 22 other satellites of the same type. This deployment inaugurates the final stage in the construction of the central network in orbit of Beidou, said the China Satellite Navigation Office.
Beidou is the largest space system in China, and one of the four global navigation networks along with the American GPS, the Russian GLONASS and the Galileo network of the European Union.
Since 2000, when the first Beidou satellite entered orbit, 57 satellites were launched, including four experimental ones, removing some of them. In December 2012, Beidou began providing positioning, navigation, synchronization and messaging services to civilian users in China and other parts of the Asia-Pacific region. At the end of 2018, Beidou began providing global services.
More than 6 million cars, taxis, buses and trucks equipped with Beidou terminals receive daily information on the recommended routes, sent by the Ministry of Transportation. Users can also verify the routes traveled during the last two weeks.
spanish.peopledaily.com.cn