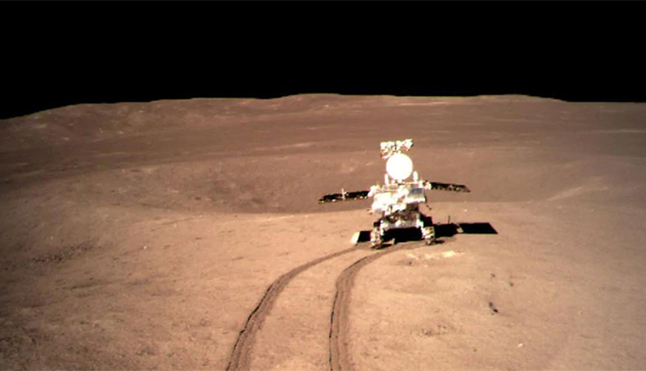 The Chinese probe Chang'e 4, the first to land on the far side of the Moon, has analyzed the soil of this unknown area, the upper part of which consists of a layer of regolith (fragments of rock and slightly compact minerals) of up to 12 meters, as had already been observed elsewhere in the satellite.
A study published this Wednesday by Science Advances, signed by Chinese and Italian experts, delves into the data sent by the Chang'e 4 mission, which landed in January 2019 in the Von Karman crater at the south pole of the satellite.
The team led by Chunlai Li of the Chinese Academy of Sciences analyzed the data transmitted during his first two days on the lunar surface by the Yutu-2 vehicle, which analyzed the composition of the soil to a depth of 40 meters, as the instruments did not allow get clear data below.
The study indicates that the data from the rover provides "clear information on the structure of the subsoil, which is mainly composed of highly porous granular materials with embedded boulders of different sizes."
The results support the existence of regolith on the surface of unexplored regions of the Moon. The presence of this mantle of pulverized rock and dust covering the solid rocky bottom was known in the face seen after the different Apollo missions, but it was not known if it existed in other areas.
The regolith layer reaches up to 12 meters and "appears quite uniform, with large sporadic rocks," the report indicates.
Up to 24 meters there is a first zone with a large number of rocks "randomly distributed" from 0.2 to 1 meter wide, while the second, deeper one, also has stones but its distribution and size is not homogeneous.
In the deepest zone that could be analyzed, from 24 to 40 meters, the distribution and quantity of rocks "decreases considerably" and are located essentially in the upper part of this layer.
To reach these conclusions, the researchers combined the high-resolution images obtained by Yutu-2 together with the scans of the lunar penetration radar with which the rover is equipped.
infobae.com