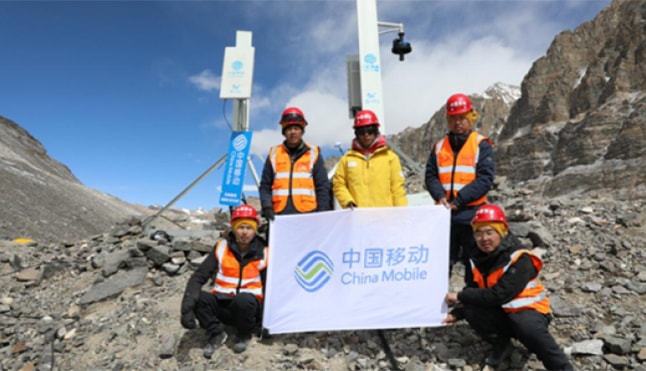 According to Global Times, China Mobile, the world's largest telecommunications operator by subscriber count, and Huawei jointly opened three 5G stations in Mount Qomolangma base and transition camps on April 19, at altitudes of 5,300 meters and 5,800 meters, respectively, said a spokesman for China Mobile.
Two other 5G stations are expected to be completed on Saturday at the 6,500-meter-high advanced camp, which will cover the summit of Qomolangma. These stations, based on non-autonomous and autonomous networks, will be the highest installed 5G base stations in the world.
According to the spokesperson, Huawei's 5G stations are "highly concentrated, small and light, which significantly reduces the difficulty of installing them on Mount Qomolangma." He added that "building the stations on the world's highest mountain has posed challenges for Chinese engineers."
"Since the base camps of Mount Qomolangma are among the national nature reserves, it is difficult to bring materials to that height," said this spokeswoman, noting that "to protect the natural environment, excavations are not allowed in the central area of ​​the mountain " "Construction workers are laying hardened cable in a way that causes minimal damage to the surrounding environment," he explains.
China Mobile has not disclosed the cost of building the 5G base stations, but industry experts estimate that installing a 5G base station on Mount Qomolangma could cost one million yuan - about 130,000 euros - compared to an average of around 30,000 or 40,000 yuan that it costs in the main Chinese cities -between 3,900 and 5,200 euros-.
The download speed of the 5G network is 1 gigabyte per second.
They're not the only ones on top of the world
In addition to China Mobile, China Telecom has announced that it built 5G stations at Qomolangma base camp, at an altitude of 5,145 meters, on April 13. The upload and download speeds tested were 700 and 223 megabytes per second respectively.
China Unicom also announced in recent days that it has built two 5G stations on Mount Everest, which will provide full 5G coverage for the mountain's observation deck and No. 1 base camp.
Industry watchers say building 5G stations on Mount Qomolangma will aid scientific research, weather monitoring, and mountaineering communication and rescue.
20minutos.es